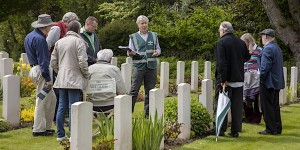 Royston Pike marks Remembrance Day with a presentation from Graham Grist of the Commonwealth War Graves Commission (CWGC).
Founded by Royal Charter in 1917, the CWGC works on behalf of the Governments of Australia, Canada, India, New Zealand, South Africa and the United Kingdom to commemorate the 1.7 million men and women from the Commonwealth who lost their lives in the two World Wars. Graham will describe some of the cemeteries, memorials, graves, landscapes, and records found at 23,000 locations, including locally here in Elmbridge, that help keep alive the stories of the fallen.
Graham Grist is a retired Civil Servant living in Walton on Thames who joined the Commonwealth War Graves Commission as a volunteer in 2017, its centenary year. As well as giving talks to interested groups, he has guided tours of Brookwood Military Cemetery, Air Forces Memorial at Runnymede and cemeteries in Walton on Thames as well as assisted people researching family members.
Tickets: £3 cash on the door (reserve your seat online)
Thursday 9 November 2023 - 7.30pm