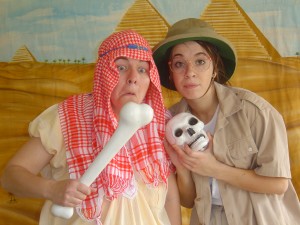 Meet up with our dotty professor and her faithful companion on the banks of the Nile. Enjoy thrills and spills as they venture into ancient Egypt and stumble upon the secrets of the pyramids.
Be prepared to meet some strange but interesting characters, but beware of the perils lurking at every turn lest you become mummified!
An exciting, informative and amusing
show-and-workshop
on Egyptology for
children ages 6 to 12
to watch, enjoy and learn.
Duration:
Play - 1 hour 
Break - 30 mins
Workshop - 1 hour
Tickets:
Adult £10 (show only)
Child £12 (show only) 
£15 Child (show
and
workshop) - No further charge for an adult with a show only ticket to stay and watch the workshop
£35 for a family ticket (1 adult and 2 children) for both show
and
workshop
Monday 23 October 2023 - 11am to 1.30pm