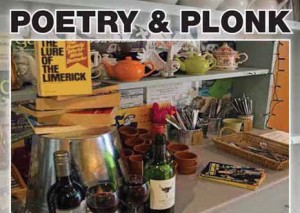 Popular, light-hearted monthly poetry event, complementing Riverhouse's extensive literature programme. Hosted and led by international poet and writer, Agnes Meadows.
Whether you're an experienced poet or a newcomer, Poetry & Plonk has something for everyone to enjoy and the bar will be open to help get the poetic juices flowing. On the third Thursday of each month (excluding August) we'll alternate writing workshops, open mic readings to perform your work and surgeries to strengthen existing work. Plus a chance to see your work published in the third Riverhouse Writers Anthology of new work and readings.
To book a place for each session contact tryphena@riverhousebarn.co.uk or call the Riverhouse Box Office on 01932 253354.
20 July (7.30-9.30) 7 Sep; 19 Oct; 16 Nov; 14 Dec 7.15 - 9.15pm
£5 per session