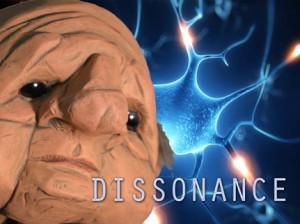 Saturday 19 March 8pm
Work in Progress - Suggested Donation £5
We would like to invite you to our part puppet performance, part perception game.
Strangeface are tackling new material in this project, as the anti-hero Mikey embarks on an unforgettable odyssey through the doors of the human mind. It's Breaking Bad meets Krapp's Last Tape in a darkly comic tale supported by The Wellcome Trust.
Created for anyone aged 14+, this one-hour performance features a punch-bag puppet created by one of the country's leading makers in visual theatre. Artistic Director Russell Dean has also made masks and puppets for Vamos, Trestle, Geese, Billy Elliot, BBC, ITV and Channel 4.
Supported by the research of Dr Nathan Heflick of University of Lincoln, Dissonance explores our conscious decisions, specifically the way we can rationalise deeply conflicting ideas.
The company would welcome audience feedback in a post performance Q&A session. Age 14+