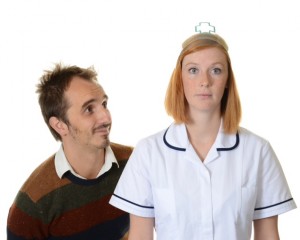 Thursday 31 March 7.30pm (SOLD OUT)
£14 (£12 concs)
This performance is now sold out, however, the show is also playing at the New Wimbledon Studio from 2 - 6 April:
http://www.atgtickets.com/shows/comic-potential/new-wimbledon-studio/​
"If it makes you laugh, treasure it."
After selling out in 2013, Enigma Theatre is reviving the popular 'Comic Potential' by Alan Ayckbourn: a comedy set in the foreseeable future, when everything has changed except human nature... Android actress 'Jacie' is just one of many machines built to play roles in daytime soap operas. However, when she begins to develop her own sense of humour, the staff are baffled, and energetic young writer Adam is intrigued. As they run away together, poor Jacie's scrambled circuits try to make sense of the completely illogical process that love is. This is a captivating comedy about what makes us human - why we laugh, and why we fall in love.
Audience comments:
"A rare theatrical treat.. Both my husband and I left with a smile on our faces and a warm glow inside."
"The best I've seen at the Riverhouse... Total genius. Congratulations!"