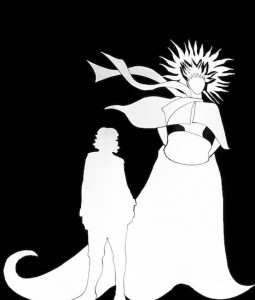 If you are coming to our Christmas Show (or just popping into the café), come upstairs and see our linked gallery installation of 'The Snow Queen'.
Transforming from the previous 'Coming Together' community exhibition, 'The Snow Queen' uses silhouettes, shadows, and sparkle to bring this Hans Christian Andersen fairy-tale to life. The shadows of the silhouettes play around the gallery and invite visitors to connect with their emotions whilst being immersed in the unfolding story.
Designed by Patsy Fraser.
Wednesday 8 December to Thursday 23 December
Opening times: 10am to 4pm
Admission FREE
No need to book