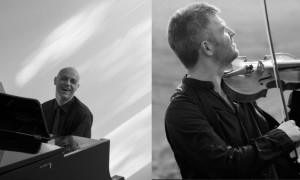 Following the success of the hugely popular Classic Gershwin, Divine Fire and Sweet Harmony, 7 Star Arts premieres a new mixed-genre production interweaving the words of Anton Chekhov and the piano music of Tchaikovsky, Medtner, Rachmaninoff. Shostakovich and le Page, performed by Viv McLean (piano), David le Page (violin), Susan Porrett (reader) and Nesley Joy (actress), complemented by artwork by Klara Smith (artist)
There are many parallels between the works of Chekhov and the music of his compatriots. Chekhov's writing is filled with allusions to music, and especially the piano, and some of his plays have piano interludes. Shostakovich noted that Chekhov's short stories were written in sonata form. Chekhov corresponded with Tchaikovsky, whom he revered, and his friend Rachmaninov played the piano in Chekhov's summer home The White Dacha at Yalta.
"Exceptional" - Le Monde on Viv McLean, piano
"Susan Porrett steals every scene" - The British Theatre Guide
'Chekhov's Grand Piano' interweaves the music of Rachmaninov, Tchaikovsky, Medtner and Shostakovich, with scenes from the 'The Seagull', 'Ivanov', 'The Cherry Orchard' and 'The Three Sisters'. Complemented by artwork and visuals from Klára Smith.
For more information visit
www.7stararts.com
Friday 3 March 8pm
Tickets: £12 (£10 concs)