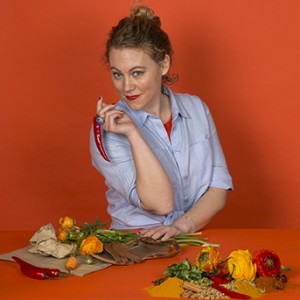 Written & Perfomed by Clair Whitefield. Directed by Guy Masterson
A hit at the Edinburgh Festival 2016: from Kerala to Camden, an epic, mystical tale of love, loss and soul-food.
A cobbler and a cook concoct a delicious transcontinental enchantment as tragedy and chance entwine. Katie dreams of curries and chapatis; Ajna, of holy souls and reincarnation... A delightful, poetic, magical yarn that conjoins the spirit of India with the heart of London. Directed by Olivier Award winner (for 'Morecambe') Guy Masterson.
****
"An extraordinary, humbling story of love, family, loss, grief, new beginnings and unexpected friendships. A delicious, appetising, spicy feast of a show!"
Edinburgh Guide, 2016
****
"The imprint lasts long after the performance ends."
Three Weeks, 2016

Friday 24 February 8pm
Tickets
£14 (£12 concessions)