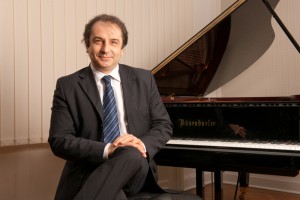 Carlo Grante is one of Italy's foremost concert artists, and one of today's most active and accomplished pianists in the recording studio.
His recorded output encompasses different areas of the piano repertoire and contains both mainstream and lesser-known works. Still in progress is the recording of the complete works of Godowsky and Scarlatti for the Music&Arts label, and recent concerto recordings include Franz Schmidt's piano works for left hand with Fabio Luisi and MDR Leipzig, Mozart's Concertos K. 365, 449, and 488 with Bernhard Sieberer and Orchestra dell'Accademia di Santa Cecilia in Rome and a live recording of Busoni's Concerto with Wiener Symphoniker and Fabio Luisi. A dedicatee of a number of compositions by contemporary composers.Grante has recorded works dedicated to him, including Michael Finnissy's Bachsche Nachdichtungen, Paolo Troncon's Preludi e Fughe, George Flynn's "Glimpses of our inner lives," Roman Vlad's Opus Triplex, (a monumental twelve-tone work based on the B.A.C.H. motif) and his newly written Concerto Italiano for piano and orchestra.
In his concert activity he has performed in major concert venues and prestigious halls: Grosser Saal of the Konzerthaus and Goldener Saal of the Musikverein in Vienna, Wigmore Hall and Barbican Hall in London, at the Parco della Musica (Sala Santa Cecilia) in Rome, Leipzig Gewandhaus, Dresden Semperoper, Stuttgart Opera, in New York, Chicago, Milan, Tokyo, Hong Kong, Singapore, Hanoi, Zagreb, Bucharest, Lima, Rio de Janeiro, the Vienna Festival, Istanbul, Husum, Newport, "Neuhaus Festival" in Saratov, Miami, Tallin, Ravello, MDR Musiksommer, etc.. with major orchestras, such as Dresden Staatskapelle, Royal Philharmonic in London, Vienna Symphony, Orchestra of St. Cecilia, Pomeriggi Musicali di Milano, Orchestra of Radio-TV in Zagreb Radio Orchestra of Leipzig (MDR), Capella Istropolitana of Bratislava, Chamber Orchestra of Europe. Grante in early 2015 completed a 9-concert series in Lincoln Center, the Musikverein, Vienna, and the Berlin Philharmonic Chamber Music Hall, entitled "Masters of High Romanticism", featuring programmes of Chopin, Schumann and Brahms.
Carlo Grante graduated from the Conservatorio di S. Cecilia, in Rome, under Sergio Perticaroli, studied composition with Claudio Perugini in the same city, earned his Master's Degree with Ivan Davis at the University of Miami, and completed post-graduate studies with Rudolf Firkusny at the Juilliard School as well as in London with Alice Kezeradze-Pogorelich.
A Bösendorfer artist, Carlo Grante is the author of the book Fundamentals of Piano Methodology.
F. Chopin, 24 Preludes, op. 28
Chopin / Godowsky, 12 Etudes on Chopin's Etudes op. 10
Bruce Adolphe (2014), New York Nocturne.
The latter is one of a 6-part new work entitled 'Chopin Dreams', commissioned by HH Promotions London Ltd. Carlo Grante is performing the world premiere of 'Chopin Dreams' at Lincoln Center in NY on 15 September.
Saturday 30 May 2015 - Reception at 7.30pm for concert at 8pm
Tickets £20