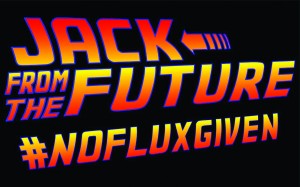 We've always wondered what the future holds for us: Will we be rich? Will we have a good job or home? It's a funny thing, Time.
In this new parody jukebox musical, Jack is unhappy with his father's decision to marry Velma, a cynical old know-it-all, whose only love, it seems, is money. But when Jack accidentally travels back in time to the eighties, to the day his parents met, he sees an opportune moment to match up his younger ambitious father with his real mother, forgetting that meddling with the past causes damage of a collateral nature! (Seem familiar?! Well, don't write it off just yet!)
With a science fiction theme, the eighties are fully embraced with classic teen movie twists, some of the greatest songs written, and some epic plot holes of which we've come to associate with the eighties! Please watch your step when we have you moonwalking out of the theatre!
Thursday 1 to Saturday 3 June 7.30pm
Tickets
£12 (£10 concs)