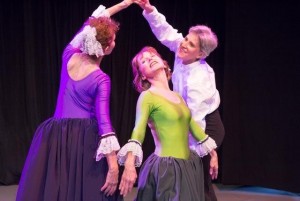 The welcome return of dance group Quicksilver, brings their colourful, energetic and stylish entertainment to Riverhouse once again. Dance, music and poetry are woven into a varied programme with many moods - comic, classic, jazzy, thoughtful, or just plain fun!
Now three years old, this company of eight, led by choreographer Angela Hardcastle, includes dance teachers and performers with a rich blend of experience in ballet, drama, musical theatre and modern dance. Joined by guest artists, they are delighted
to be back this year to present another lively show. Quicksilver is living proof of the power of movement to continue to inspire the spirit, strengthen the body and sharpen the mind as we all go on Dancing Through Life.
To find out more about this Surrey-based group, visit www.quicksilverdance.co.uk
(Quicksilver Patron: Celia Imrie)
Saturday 24 June 8pm and Sunday 25 June 3pm
Tickets £15