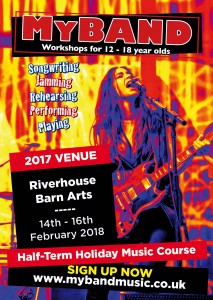 MyBand tutors: Marcel Pusey/Josh Breslaw
MyBand is a fantastic Song Writing, Playing, Performing, Recording Holiday Course run over 3 days. Drums, Voice, Guitar, Bass, Sax, Violin, Trumpet, ALL instruments are welcome.
Explore different music genres, Rock, Pop, R&B, Soul, Jazz, Hip Hop, there are no boundaries! Ability is not the criterion, but imagination, having an open mind and passion are most welcome. This engaging course is run by professional musicians. You learn more than just about music! 
Learn more and watch 'Our Band' videos: www.mybandmusic.co.uk Call Marcel
07881 584502
. Email marcel@bassistry.com Ages: 11 to 17 years.
Wed 29 - Fri 31 Aug
10am-4.30pm
£120