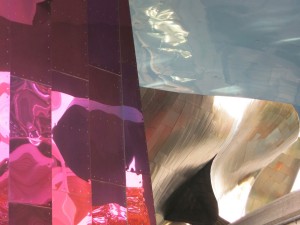 Wednesday 15 - Sunday 26 March
Reflections on a life in art - with a little help from our friends!
Architect, designer, artist, picture librarian, photographer, curator, gallery director - Vivien and Chris Rudolph have been all of these things and this exhibition is a look back at their lives and careers in visual art. It encompasses not only examples of their own work, but also the colleagues and artists they have met along the way.
Alongside the display of paintings, drawings, sculptures, constructions, textiles and photographs, there is an installation based around a dining table, symbolising the hub of daily life - eating, sharing, celebrating; it is also a metaphor for seven decades of man and a memory of people and places.
The chairs around the table have each been painted by a different artist, in a variety of styles, and are available for sale - with the money raised going to a charity chosen by each artist.
Gallery opening hours 10am to 4pm daily.
Free Admission