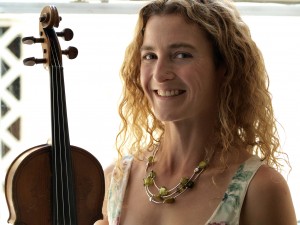 With Laurel Swift, Deb Chalmers, Dave Delarre and caller Mary Panton
Mary is an experienced caller who will ensure that everyone has a good time, and ably instruct anyone in the hugely enjoyable art of ceilidh dancing. Mary has called for dances in every setting and town across the land. No matter how many left feet you think you have, with her encyclopaedic knowledge of dances and steps, and ability to communicate simply yet effectively to all participants, Mary will have you moving like a pro instantly!
Laurel Swift is a popular ceilidh fiddle player, known for her work with The Gloworms. Deb Chalmers is a brilliant fiddle player, known for her work with Stepling as well as many ceilidh bands. Both women have a lively, infectious style of playing that is sure to get you up on your feet in no time - and is a joy to listen to for anyone who really would prefer not to dance! They are joined this afternoon by outstanding guitarist, Dave Delarre, who also plays with Eliza Carthy, Mawkin and many others.
Sunday 21 May 4pm

**PLEASE NOTE** This is later than advertised in our print brochure


Tickets
£12 (not including food!) Children £5
BBQ £7