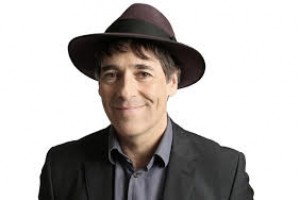 Mark Steel
Work in Progress Edinburgh Preview (PLEASE NOTE:- Due to unforeseen circumstances, this is a change to the original line up)
A heavyweight political comedian of a Marxist slant, Mark Steel has performed as a stand-up comedian on the British comedy circuit and on national tours since the '80s.
He has also written and performed The Mark Steel Solution and The Mark Steel Lecture for Radio 4, hosted Radio 5's Extra Time and produced the best selling book Reasons to be Cheerful.
'He's a man with a passionate desire to communicate his ideas, who is also very funny' (The Guardian).
Andrew Ryan
Andrew's quintessentially Irish storytelling abilities and cheeky, friendly demeanour make him a natural observational stand up. He performed his debut hour show 'Ryanopoly' at the Edinburgh Fringe Festival in 2012, receiving rave reviews
('Illuminating debut
★★★★' – The Metro).
In 2014 he returned with 'The Life of Ryan' playing to packed out rooms
('Going to be a huge star
★★★★' – Timeout).
In 2015 he was at the Edinburgh Festival with his show 'Perfectly Inadequate'. Selling out his run and having to put on extra shows.(
'Hard not to enjoy'
★★★★ Daily Record,
'An hour of hilarious comedy'
★★★★ Edfestmag).
Andrew has appeared on BBC3's Russell Howard's Good News, Best of the Edinburgh Festival Live on BBC3, Live at The Comedy Store for Comedy Central, & Live for MIND on Comedy Central.
Sunday 2 July 7.30pm
Tickets
£8