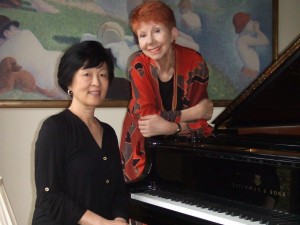 Our Gala Event for the Literary Festival Weekend features Carole Boyd, best known as Lynda Snell (The Archers) and pianist Lynda Chang present a programme of words and music specially designed to complement Jacques' famous speech from Shakespeare's 'As You Like it', reflecting the seven phases of man's life, from birth to death.
To celebrate this essential example of Shakespeare's poetry, Carole and Lynda have chosen to illustrate the variety of these seven themes through a subtle combination of words and music.
Carole's extensive work in theatre led to her creation of Lynda Snell in 'The Archers'. Voice-overs and audiobooks are a speciality including award-winning recordings of 'The God of small Things', 'Suite Francaise' and 'Middlemarch' but feels most privileged to have won a Talkie for playing all the female characters in 'Postman Pat'!
Lynda Chang began learning piano at the age of 3 with a formidable German nun in Hong Kong. Later at the Royal College of Music in London, she achieved a 1st class honours B.Mus. and was awarded the Tagore gold medal. she is an accompanist for the national Children's Orchestra's annual batch of Leverhulme scholars.
Saturday 28 October, 7.30pm
Tickets:
£15
(The Festival runs all weeekend and features workshops, free events, book stalls and competitions as well as a poetry open mic and talks)