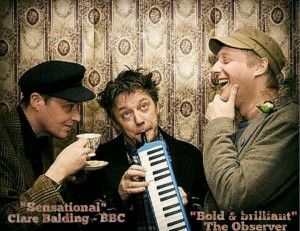 Songs about cuckolded molecatchers, a lone English oak tree that grows at Gallipoli, care in the community and medieval pilgrims… We can only be talking about the folk experimentalists Harp and a Monkey!
The harp 'n' banjo-driven electro-folk storytelling of trio Harp and a Monkey is imbued with a deep Lancashire sensibility that shines through in their beautifully crafted and sometimes spooky vignettes of northern life, love and remembrance. Friends for decades, Martin Purdy, Simon Jones and Andy Smith enjoy a fantastic rapport with their audiences and are proud to have never played anywhere and not been invited back. 
Their third album,
War Stories
, came out in July 2016 and was labelled "bold and brilliant" by the likes of The Sunday Observer. A firm favourite of Mike Harding, who gave them their first BBC airplay, the band has subsequently appeared in-session on the Beeb with the likes of Mark Radcliffe and Clare Balding. Such is the outfit's reputation as a quality live act, they have twice been invited to appear at the English Folk Expo, the annual international showcase that highlights the best English folk acts on the circuit.
Best Band winners - 2017 folking.comAwards 
Sunday 25 November, 12.15 (doors open 12 noon)
Tickets £12.50 / £10.50 / U16 free