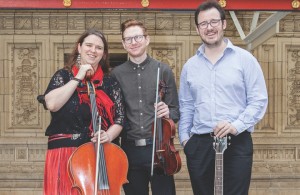 An eclectic new project, this group combines the worlds of jazz, world music and classical, featuring the intimate chamber instrumentation of violin, guitar, cello and accordion and an elegant yet fiery fusion of improvisation and written music. Ranging from Parisian and American Jazz, the Chaabi music of Algeria, Tango from Argentina, Balkan folk melodies through to the early modern and folk music of Western Europe, Balagan fuses these threads into a coherent and characteristic sound world.
The past couple of years have seen the band perform at venues including the elgar Room, Omnibus and national Portrait Gallery, to enthusiastic public responses and they look forward to releasing their debut album featuring guests including alice Zawadski. The ensemble features some of the UK's most versatile and capable artists.
"This is music for the ears, heart and feet"
Royal Albert Hall
"An inspired string trio"
Time Out

Friday 6 October - 8pm
Tickets: £15 (£12 concs)
Pre Theatre menu available (£12 per head, call or book online)