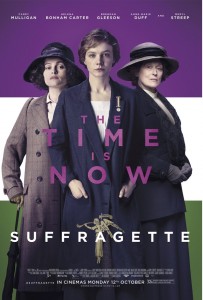 Dir Sarah Garvron (2015) (PG - 13)
The story of the foot soldiers of the early feminist movement, women who were forced underground to pursue a dangerous game of cat and mouse with an increasingly brutal State. These were working women who had seen peaceful protest achieve nothing. Radicalized and turning to violence as the only route to change, they were willing to lose everything in their fight for equality - their jobs, their homes, their children and their lives. Starring: Carey Mulligan, Helen Bonham Carter, Meryl Streep.
"Suffragette comes cloaked in respectability, but the fire in its belly is hot and real." Robbie Collin The Telegraph
"This is an important story and Suffragette tells it without stylistic fuss or frills in solidly down-the-line fashion." Mark Kermode The Observer
"...a valuable, vital film about how human rights are won" Peter Bradshaw The Guardian
Thames Radical Cinema Membership: membership@
thamesradicalcinema.
co.uk
Thursday 9 November (bar opens 7pm for 7.30pm start)
Tickets £10, £8 concessions, £5 students