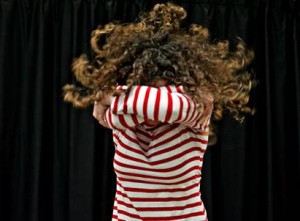 Tell me my daughters...which of you shall we say doth love us most?
Dark and challenging, epic and shocking, human and uplifting. With this explosive, emotive retelling of the legend of Lear, King of the Britons, Debs Newbold channels her love of Shakespeare's language to whip up a great storm that will snatch you from your seat and send you hurtling into its bloody centre. Created for a sell-out show at The Hay Festival, performed to acclaim at Shakespeare's Globe, this is a storytelling event you cannot miss.
Debs Newbold's work brings together the poetic and the irreverent, the ancient and the defiantly modern. Debs is one of the UK's most acclaimed Performance Storytellers, regularly playing venues such as the Royal Opera House, Southbank Centre and Shakespeare's Globe, as well as touring internationally.
Twice voted one of the top five acts at the Towersey Festival (the only Spoken Word Artist in its fifty-year history ever to achieve this), Storyteller for Shakespeare's Globe, Associate Artist at the English Folk Dance & Song Society, double nominee at the inaugural British Awards for Storytelling Excellence, Debs is a force of nature, a teller not to be missed.
Recommended age: 12+.
Friday 9 February 8pm
Tickets
£14 (£12)