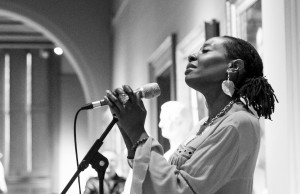 In summer 2015 the recording of "Stripped Back" - the second album release to come from Melissa - would unexpectedly take singer and songwriter Melissa James in a new direction.  "Live Again", one of the songs recorded, had been written some two years prior.  The song speaks of the silent call for help she had heard from a person she could see was struggling mentally.  She made the creative decision to allow the stark recording to lay bare her vocal vulnerability, unaware that it would in turn bring to light the plight of her subconscious message to herself through the lyrics of this song.  It became clear to her that the cry emerging from the recording was in fact her very own.   From this realisation came a long and slow process of self-discovery and the emergence of Melissa's Big Sing project SING4SANE which brought people together to sing "Live Again" publicly. 
Returning to the Riverhouse Barn for the second time, Melissa feels called to use her music as a healing tool and introduces songs she has been writing during these past months of collective challenge.  Melissa invites us to join her for an intimate set in which we unite, connect and feel through song.
"James takes all of her musical loves – jazz, blues, soul, folk and wraps them up into songs that achieve an astonishing array of moods and emotions"
- Jazzwise
"Melissa's vocals are sensitive, soulful and emotional..
." - Maverick
Friday 26 March  - 7.30pm Tickets for performance:
£18 (this concert will also be live-streamed, link to follow)
If we can have an audience, this event will be socially distanced according to the regulations at the time. To help us keep you safe please book in household bubbles that can be seated together.