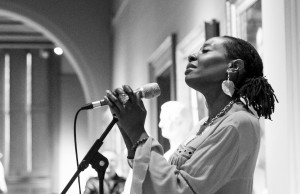 Performing songs in an acoustic setting, Melissa James returns to the Riverhouse Barn alongside her pianist, Arthur Lea.
"Best current British blues singer I know."
– The words of BBC 6 Music's Tom Robinson who has long given a nod of approval to the work of this singer-songwriter.
"James takes all of her musical loves – jazz, blues, soul, folk – and wraps them up into songs that achieve an astonishing array of moods and emotions."
- Jazzwise
"Melissa's vocals are sensitive, soulful and emotional.."
- Maverick
Melissa James is, however, much more than a blues singer. Appearing in Parliament to lead Parliamentarians in a Big Sing of her song, Live Again, she is a singer with incredible passion for her cause. The creation of her project SING4SANE is testament to that. A singing project which see "pop-up" Big Sings appear in public spaces alongside anyone who wants to raise their voice in the name of mental health, wellbeing and joy. Her heart is large and together with her music which blends folk, gospel, jazz – and life tales – her songs are never without a big helping of soul. Melissa makes her shows as much about the delivery of her songs as they are about reaching out and making a connection with her audience. No finer example can demonstrate this than through the initiation of her latest project, SING4SANE which saw her invite willing participants to join her at RAK Studios to sing and record her song, "Live Again," for the purpose of mental health awareness, and to build togetherness among like-minded individuals. This Big Sing recording - on release as a charity single - is also to be released in a more simplified acoustic form on her latest release, Stripped Back.
All this follows her 2012 debut record, Day Dawns, which affirmed Melissa's place on the musical map as, not only a singer with a voice that moves and continues to permeate the many who hear it
but a poetical songsmith who walks in the shadow of her idols Joni Mitchell, Nina Simone, Eric Bibb and another very fine singer to whom she has been likened, Lizz Wright.
Saturday 26 January  - workshop at 12-2.30pm, gig 8pm Tickets for performance
£15 (£13 concs, £6 U15)
Tickets for Performance and singing workshop: £25.  Singing workshop only: £20