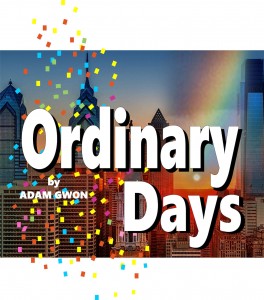 Creative Minds in association with Lighted Fools Theatre Company present
Ordinary Days by Adam Gwon
When Deb loses her most precious possession - the notes to her graduate thesis - she unwittingly starts a chain of events that turns the ordinary days of four new Yorkers into something extraordinary. Told through a series of intricately connected songs and vignettes, 'Ordinary Days' is an original one-act musical about growing up and enjoying the view, by exciting new writer/composer Adam Gwon. It is a refreshingly honest and funny score of vibrant and memorable songs.
"...a heartfelt and clever look at life in modern-day New York"
(Critic's Pick) Time Out, New York
Directed by Polly King
Featuring Timothy Brown, elliott Griffiths, stephanie napier and Danni stembridge
www.lighted-fools.co.uk
"Lighted Fools deserves to be a company whose shows you go to see just because it's them"
Sardines Magazine
An amateur production by arrangement with R&H Theatricals Europe
Friday 1 and Saturday 2 June - 8pm 
Tickets:
£15