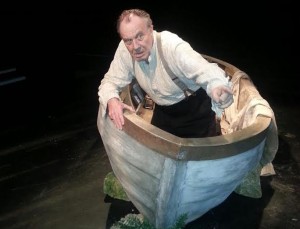 HiLo Productions partnered by the Rialto Theatre Brighton and the Beacon Arts Centre Greenock present the New Vic and Eastbourne Theatres production 
Performed by acclaimed actor Malcolm Rennie
Shackleton's Endurance sank in Antarctica, leaving him and his crew of 27 stranded. McNish, brilliant carpenter and shipwright, defied Shackleton, but went all the way with him and played an absolutely vital role in ensuring all 28 were saved. For all his bravery and ingenuity, McNish was one of the very few who were never awarded the Polar Medal.
Now again, alone and destitute, one still night on the dockside, he challenges him one last time. In his fevered mind he relives the Endurance expedition, pitting himself against Shackleton and plagued by the ghosts of his past. How did he antagonise the hero of Antarctica?  How does he come to terms with it?
Malcolm Rennie has appeared in over 20 West End shows and Recent stage appearances include Sir Anthony Absolute in the Rivals (Salisbury), Salieri in Amadeus (York), Willy Clark in The Sunshine Boys (W Yorks Playhouse), Spettigue in Charley's Aunt (Royal Exchange) and Colonel Pickering in My Fair Lady on international tour. 
He also toured internationally with Joseph and the Amazing Technicolor Dreamcoat as Jacob, father to Philip Schofield's Joseph, and with the RSC world tour of Peter Brook's production of A Midsummer Night's Dream.
Many TV and film appearances including Midsomer Murders, Taggart, Ransom, Pride and Prejudice, The Lenny Henry Show, Sunny Stories, The Accountant, Monarch of the Glen and most recently Hysteria, Coronation Street, Sherlock, and 4 series of Mr Selfridge as Fraser the family butler.
"90 minutes of riveting storytelling … Malcolm Rennie conjures up a roaring man, acidic, vengeful and lost … within a stunning performance we slowly witness the disintegration of a personality. 4*" (Surrey Advertiser)
Friday September 28 - 8pmTickets:
£15 (£13 concessions, £5 students)
NB. To enable the Walton Matters discount code for concession and student tickets, enter the discount code and then the word CONCESSION or STUDENT without leaving a gap.
Age recommendation 12+