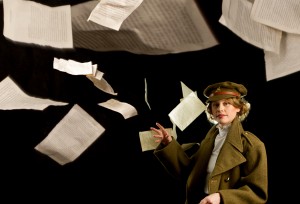 Stories of First World War women through song
Award winning singer, songwriter and musician Louise Jordan shares the stories of inspirational women who challenged expectations through original song and storytelling. From the woman who dressed as a soldier on the Western Front to the women football players banned by the FA, the ambulance drivers running the gauntlet of enemy fire in Flanders and the so-called 'surplus million' single women. 
"This is a gutsy and meticulously researched project… an arresting album and an important historical document." Songlines, January 2017. Read the whole review here.
"Compellingly sung, with expert, often classically-inflected arrangements." fRoots, December 2016. Read the whole review here.
"Jordan has approached her subject with the diligence of a scholar and the heart of an artist …It is in responses like this set of songs that our collective cultural memories are kept alive…" R2 Magazine, 
"Jordan has produced one of the most touching and powerful folk albums of the year so far." The Sunday Express, October 2016
"If there's one album you really should own, then this is it." FolkWords, September 2016
"a terrific and highly accomplished piece of work" fruk, September 2016
"an album that matters" FATEA Magazine, October 2016
"Jordan has produced one of the most touching and powerful folk albums of the year so far" The Sunday Express, October 2016
Saturday 27 October - 8pm
Tickets: £14, £12 (concs) 
Student prices available for groups - (boxoffice@riverhousebarn.co.uk)
www.louisejordan.co.uk 
www.nopetticoatshere.co.uk 
Twitter: @nopetticoats and @ljordanmusic
www.facebook.com/louisejordansings 
https://www.youtube.com/watch?v=l94_l_-vmys
What the press has previously said about Louise Jordan:
'A stirring, lilting grace' The Telegraph
'Absolutely, totally and completely brilliant' Mike Harding, BBC Radio 2
'Haunting and unforgettable' The Sunday Express
'The fragility of perfection' FolkWords
'A masterclass in songwriting' R2
'Louise's vocals are out of this world' Maverick
'Absolutely glorious' FATEA
Full reviews are available to download at www.louisejordan.co.uk/about-press/