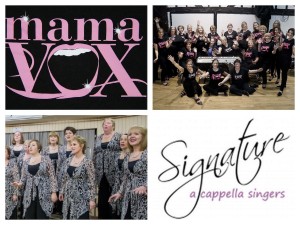 FROM BEATLES TO BARBERSHOP
Walton's very own Mama Vox with guests Signature Singers
accompanied by Alex Norton
Mama Vox are an established community ladies singing ensemble based in Walton on Thames directed by Janet Shell who is also vocal consultant for Signature Singers. Signature are an award winning female a cappella group singing everything from bluesy ballads to classic barbershop.
Tonight they each present a unique selection of their own style of music including Dream a Little Dream of Me, Mamma Mia Medley, For Good, Diamonds are a Girl's Best Friend, Close to You and  It's Raining Men and then join forces to perform the haunting Seal Lullaby  and the chart topping single Wherever you are.
Join us for 75 minutes of gorgeous music!
Bar Open
There will be a collection for a local charity
Friday 6 July, 7.15pm
Tickets £5, Children go free