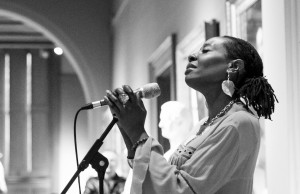 Explore your voice.  A singing workshop with Melissa James.
This vocal workshop is led by singer-songwriter, Melissa James.   Following her performance at Riverhouse last summer, Melissa is back to perform again but this time she is also offering a chance for you to join her in a very special pre-concert singing workshop.
Open to anyone aged 16 or over.  To those who love to sing and feel they have a voice and to those who fear singing and who might feel they have no voice.  Melissa will encourage you to explore sounds and rhythms which will lead to working on a song that you can join with her on stage in performing later that evening.
Those wishing to attend the workshop without joining the performance are also welcome to do so. 
 LIVE AGAIN: https://www.youtube.com/watch?v=bsirIT5bAGY
Saturday 26 January 12pm - 2.30pm
Workshop at 12 noon, performance at 8pm  
Tickets for Performance and singing workshop: £25. 
Tickets for Singing workshop only: £20