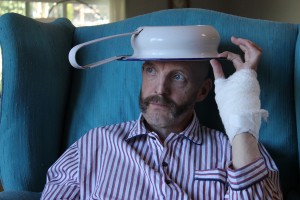 In 2017, comedian, BAFTA award winner, Harry Potter actor and double bassist Jim Tavaré was involved in a near fatal head-on automobile collision in Los Angeles where he has resided since 2009. He lived to tell the tale....
Directed by Henry Normal, In 2018 Jim returned to the Edinburgh Fringe for the first time in 20 years with his first narrative show, 'From Deadpan To Bedpan'. He tells the story of how a quick trip to the shops changed his life forever. The show is a heart-warming and seriously funny tale of survival against the odds, strange forebodings, unbelievably massive American medical bills, and a dog called Mr Kippy. To much acclaim, this show won 'Spirit of the Fringe Award' at the Edinburgh Fringe 2018.
After suffering catastrophic injuries (over 30 broken bones including 14 broken ribs and punctured lungs that later collapsed, multiple fractures, blunt force trauma to his head and chest, a broken neck and a hand that detached from the wrist) that left him in intensive care on life support, he spent the next year in recovery facing an uncertain future. But instead of letting trauma define him, he emerges inspired with a brand new show. 
Saturday 25 May 2019
Tickets £12.50