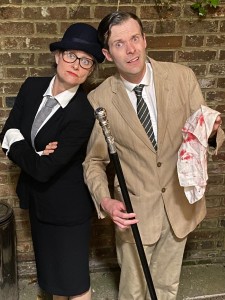 There's been a murder in the sleepy little Cornish village of Morlington Hill during the 1940s and the Police have drawn a blank on apprehending the villain! We're calling on you to sleuth it out and find the murderer over a few drinks - you may even win a prize! The evening is performed by a cast of three professional actors who have appeared in television, film and the West End.  
Various Dates - Doors 8pm - Performance starts at 8.45pm
Tickets
£16.50 
Please note, we no longer offer the pre-show buffet. This is reflected in the lower ticket price. The bar is still open and snacks are avaialble.
This performance is not suitable for children.