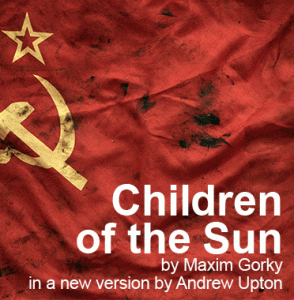 Children of the Sun
by Maxim Gorky translated by Andrew Upton
Director:
Dan Bird
Rose Theatre
Tuesday 31 October - 7pm
Wednesday 1 November - 7pm
Thursday 2 November – 2.30pm & 7pm
Tickets:
Standard £7, Concessions (Over 65s, Students) £5, Rose Bruford College Students £1.50
Written during the violence and chaos of 1905, the year of Russia's crushed revolution, Children of the Sun portrays a middle class stumbling through public and private turmoil. As political unrest builds in local towns and fields, Protasov obsessively pursues his scientific experiments, oblivious to everything around him: his best friend is trying to seduce his wife, a fevered widow is trying to seduce him, and a cholera outbreak is driving the local peasantry to riot. Andrew Upton's vibrant modern adaptation premiered to great acclaim at the National Theatre, London in 2013.
This performance is not recommended for those under the age of 14.