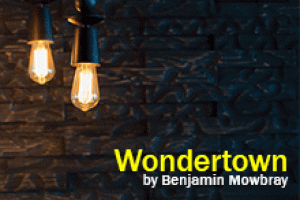 New Writing Season at Ugly Duck, Tanner Street
The Bohemians present:
Wondertown 
Written and directed by Benjamin Mowbray 
Musical Director
Elliot Mackenzie
Set & Costume Designer
Kimmy Hanseo Kim
Lighting Designer
Verity Rose
Sound Designer
Tom Watling
Wondertown is a new musical inspired by Lewis Carol's Alice in Wonderland. We follow Alice and her father Robert, down the rabbit hole to a place of their own invention, Wondertown. Alice is separated from her father and goes on a journey to find him and to discover her political voice, meeting all the mad characters of Lewis Carol's world on the way.  
The Bohemians are extremely excited to present a new production of Wondertown after our R&D performance last year. Some comments from Wondertown in 2017: 
"Incredible! I could watch another few hours of it..."
​"Can't put into words how awesome it was! Loved the energy, harmonies, messages punctuated with the fab use of instruments. "
​"Best thing I've seen in ages, absolutely Hilarious!"
​"So current which was awesome."
​"Fantastic Songs - Great idea merging Politics and Fantasy, what a great combination!"
​
The Bohemians
The Bohemians are a brand new Actor Musician theatre company founded by students from Rose Bruford College. The company debuted with a scratch performance of
Wondertown
which took place during Symposium 2017 at Rose Bruford College. The Bohemians recently had its official launch at The Other Palace 
Performances
Wednesday 13 June - 3pm
Thursday 14 June - 11am
Friday 15 June - 12.30pm
Saturday 16 June - 5.30pm
Admission
£10 full price
£5 RBC students