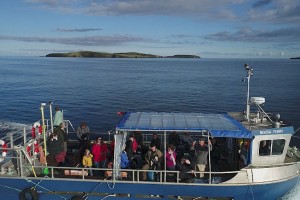 A one-hour cruise of Mousa Sound leaving Sandsayre Pier and going down the west side taking in the sights of the Lairds house at Sandsayre, the copper mine, powder house and the Burland Broch.  Before heading across to the east side (Mousa Side) we will do a bit of Seal watching and hear about the local wildlife. Then it's across the sound for a photo opportunity with Mousa Broch as your backdrop before visiting the bay of Boulder Beach and West Ham to see Ham House, and the Mousa Boat Pier before returning to Sandsayre.
This trip will take approximately one hour and give passengers an opportunity to experience the nature and history of the area, as well as splendid views of the famous broch.
A cruise may be of interest to less able visitors as well as those who simply want to enjoy a relaxing and informative excursion. 
Lifejackets provided – please arrive promptly for safety briefing prior to departure.