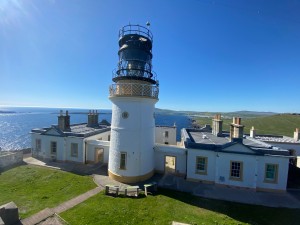 Sumburgh Head Visitor Centre Ticket – can be used anytime throughout the 2021 season 
It is a big year for Sumburgh Head Lighthouse as it celebrates its bicentenary - a full programme of events to mark the occasion will take place throughout the coming months which will include Lighthouse tours, Wartime tours and trails, guided walks taking in the construction of the Lighthouse, a book launch, a Q&A with Retained Lighthouse Keeper Brian Johnson, family activities and wildlife events.
We also have a permanent café in place once more offering what, in our opinion, is the best coffee, cake and views in Shetland. Katja's 'Unken Wagen' was extremely popular in previous seasons and we know that she looks forward to welcoming her loyal customers to the 'Unken Kaffee' at the Lighthouse. 
Buying a ticket helps to support the site, care for the lighthouse and provide facilities for our visitors – now more than ever we need you support.  You can also 
donate online
.
PLEASE NOTE: The booking slot has a start date and time on it but your ticket can be used at any day/time when we are open
 – 
find our more on our website
. 
Our 2021 season will finish on Sunday 3rd October 2021- any 2021 ticket purchased will be valid to this date.
Covid Guidelines 
Face Coverings are required in the Visitor Centre and shop (unless exempt). 
Please do not visit the site if you have experienced Covid-19 symptoms in the last 7 days or have been in contact with anyone who has. 
See our website to find out more about the hygiene and safety measures we have put in place and 
what to expect when you visit
.