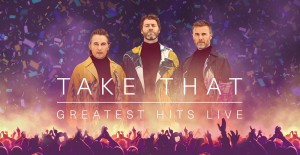 Celebrating 30 incredible years,
Take That
are bringing their spectacular 2019 Greatest Hits tour to cinemas for one night only! The Gateway are recording LIVE this highly anticipated anniversary show which promises to be their best yet.
With front row seats, you'll be a part of the action as Gary, Mark and Howard journey through
Take That's
incredible music history. Performing their biggest hits from the last three decades, and new tracks from their latest album Odyssey, fans will love this ultimate big screen sing along. So, get ready to throw your hands in the air – it's a party you'll never forget!
Doors open 7pm for a 7.30pm start, runtime 150mins. Your seat will be automatically allocated but if you have any specific requirements please call the box office direct so we can assist for your comfort and safety. 01297 625699. There will be room at the back of hall for dancing !!! 
Please note we do NOT add any extra charges for online purchasing so if you are a taxpayer you have the option to select giving a £1 donation on your ticket, every donation goes towards the maintenace and purchase of equipment for our much loved building, if purchasing more than one ticket you can select tickets without donation and one with. Thank you so much!

Reviews for Take That's Wonderland TourThe Telegraph – 5 Stars  'Take That took it and smashed it out of the arena.'
The Sun - 5 Stars 'Yet again, the Take That boys have produced the tour of the year'
 The Guardian - 4 Stars 'Master Crowdpleasers Deliver A Flaming Carnival Of Pop'
 Metro - 4 Star Review 'Gary And The Boys Still Rule The World'