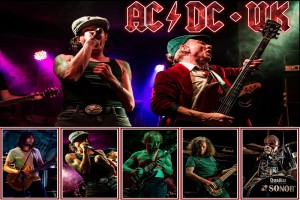 AC/DC UK
Europe's most explosive tribute to rock legends AC/DC.
Fronted by the most authentic "Angus Young" in the business; AC/DC UK deliver a
2 hour powerhouse show.
The experienced backline drive out the set with the same tenacity, volume & passion as the
real deal.
Making use of the AC/DC trademarks, from Angus' famed striptease, Brian's iconis flat cap,
a giant inflatable Rosie, and fully firing cannons to salute those about to rock.
June 2018 saw the tribute band AC/DC UK emlegebark on one of their biggest shows in the band's
history.Closing the Friday night of Graspop, they played just after the legendary headliner's Iron Maiden
to a packed out Metal Dome.
AC/DC UK have played multiple high profile festivals and events, including;
"Stone Free" at the Millenium Dome with Alice Cooper, The Darkness & Michael Monroe.
"BosPop" with Steve Vai & Carlos Santana.
"Paaspop" with Kooks & Saxon. Dubai's Hard Rock Cafe and multiple Rock & Bike shows
with Magnum, Dr Feelgood and many other legendary names.
http://www.youtube.com/watch?v=exSSFDbIRPc
Blackballed
(supporting act)
Blackballed are an English rock band from Manchester.
Formed in 2012 by New Model Army guitarist Marshall Gill, his brother Leon and Tom Wibberley,
the band has toured extensively in the UK, including well-known festivals such as Beautiful Days and Bearded Theory,
and has also played in Germany, Luxembourg and the Netherlands.
They have released two albums so far, Colossus in 2014 and Fulton's Point in 2017.
https://www.blackballedband.org/
**
This is a Limited Seating event
**, doors open 7.30pm. Licensed Bar. 
Please note we as a charitable organisation we do NOT add any extra charges for online purchasing so if you are a taxpayer you have the option to select giving a £1 donation on your ticket, every donation goes towards the maintenace and purchase of equipment for our much loved building, if purchasing more than one ticket you can select tickets without donation and one with. Thank you so much!