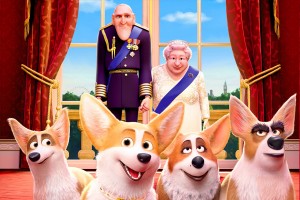 Rex is the Queen's Top Dog - a spoilt little corgi who lives a life of luxury in Buckingham Palace. But when Rex winds up in a London Dog's Home, surrounded by tough strays, he must learn that to become a true Top Dog, you have to earn it!

Since his arrival at Buckingham palace, Rex lives a life of luxury. Top dog, he has superseded his three fellow Corgis in Her Majesty's heart. His arrogance can be quite irritating. When he causes a diplomatic incident during an official dinner with the President of the United States, he falls into disgrace. Betrayed by one of his peers, Rex becomes a stray dog in the streets of London. How can he redeem himself? In love, he will find the resources to surpass himself in the face of great danger...
Doors open 6.30pm for those wishing to bring a picnic ( No drinks please as there is a Licensed Bar ) for those simply wishing to watch the film then show starts at 7.30pm. Runtime 1hr 25min. Rated PG but do investigate reviews as it seems this film is aimed more for the adult audience
PLEASE NOTE when purchasing online take care to select the correct ticket, Film Picnic NIght for table allocation and Film Only for row seating. Your table or seat will be automatically allocated but if you have any specific requirements please call the Box Office direct on 01297 625699
Please note we do NOT add any extra charges for online purchasing so if you are a taxpayer you have the option to select giving a £1 donation on your ticket, every donation goes towards the maintenace and purchase of equipment for our much loved building, if purchasing more than one ticket you can select tickets without donation and one with (the £1 donation fee will be added at the checkout).  Thank you so much!