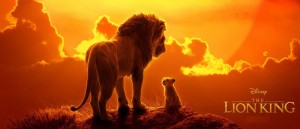 Simba idolizes his father, King Mufasa, and takes to heart his own royal destiny on the plains of Africa. But not everyone in the kingdom celebrates the new cub's arrival. Scar, Mufasa's brother -- and former heir to the throne -- has plans of his own. The battle for Pride Rock is soon ravaged with betrayal, tragedy and drama, ultimately resulting in Simba's exile. Now, with help from a curious pair of newfound friends, Simba must figure out how to grow up and take back what is rightfully his.  Runtime 1hr 58mins. Doors open 6.30pm for those wishing to bring food (No drinks please as there is a licensed bar)When purchasing online take care to select the correct ticket, Table or Row seating.  Your table or seat will be automatically allocated but if you have any specific requirements please call the Box Office direct on 01297 625699.
Please note
we do
NOT
add any extra charges for online purchasing so if you are a taxpayer you have the option to select giving a £1 donation on your ticket, every donation goes towards the maintenace and purchase of equipment for our much loved building, if purchasing more than one ticket you can select tickets without donation and one with
(the £1 donation fee will be added at the checkout)
.  Thank you so much!