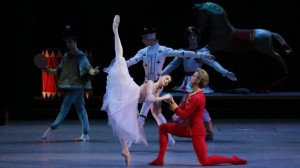 In this timeless story accompanied by Tchaikovsky's beloved score, rising star Soloist Margarita Shrainer perfectly embodies Marie's innocence and enchantment along with the supremely elegant Principal Dancer Semyon Chudin as The Nutcracker, captivating audiences of all ages and bringing them on an otherworldly journey.
Music Pyotr Ilyich Tchaikovsky Choerography Yuri Grigorovich Libretto Yuri Grigorovich (after E.T.A. Hoffmann and Marius Petipa) Cast Margarita Shrainer (Marie), Semyon Chudin (The Nutcracker), Denis Savin (Drosselmeyer), Alexandre Vodopetov (The Mouse King), and the Corps de Ballet
On Christmas Eve, the mysterious Drosselmeyer brings a Nutcracker doll as a gift for his goddaughter Marie. At midnight, the doll comes to life and finds himself in a battle against the Mouse King, determined to save Marie from him.
Tea/Coffee, delicious cakes and a Licensed Bar. Runtime 150 mins.
Your table will be automatically allocated however if you have any particular requirement please call the box office direct to ensure your safety and comfort. 
Tel 01297 625699.