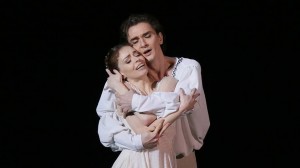 The star-crossed lovers' tragic fate inspired Prokofiev a remarkable cinematic score, from the delicate theme of Juliet to the ominous Dance of the Knights. Bolshoi stars Ekaterina Krysanova and Vladislav Lantratov wholly embody the two eternal lovers in Alexei Ratmansky's stunning evocation of love at first sight.
Music Sergei Prokofiev Choerography Alexei Ratmansky Libretto Sergei Prokofiev, Sergei Radlov and Adrian Piotrovsky (after William Shakespeare)Cast Ekaterina Krysanova (Juliet), Vladislav Lantratov (Romeo), Igor Tsvirko (Mercutio), Dmitry Dorokhov (Benvolio), Vitaly Biktimirov (Tybalt), and the Corps de Ballet
In spite of each of their families being merciless enemies, Romeo and Juliet are deeply in love. The rivalry between the Capulets and the Montagues will cost Mercutio's life, causing Romeo a desire of vengeance for the loss of his friend...
Tea/Coffee, delicious cakes and a Licensed Bar. Runtime 185mins
Your table will be automatically allocated however if you have any particular requirement please call the box office direct to ensure your safety and comfort. 
Please note we do NOT add any extra charges for online purchasing so if you are a taxpayer you have the option to select giving a £1 donation on your ticket, every donation goes towards the maintenace and purchase of equipment for our much loved building, if purchasing more than one ticket you can select tickets without donation and one with. Thank you so much!