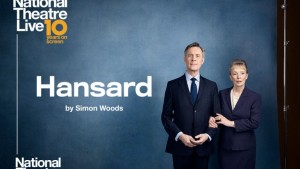 Hansard; noun. The official report of all parliamentary debates.
See two-time Olivier Award winners, Lindsay Duncan (Birdman, About Time) and Alex Jennings (The Lady in the Van, The Queen), in this brand-new play by Simon Wood, broadcast live from the National Theatre in London.
It's a summer's morning in 1988 and Tory politician Robin Hesketh has returned home to the idyllic Cotswold house he shares with his wife of 30 years, Diana. But all is not as blissful as it seems.
Diana has a stinking hangover, a fox is destroying the garden, and secrets are being dug up all over the place. As the day draws on, what starts as gentle ribbing and the familiar rhythms of marital scrapping quickly turns to blood-sport.
Don't miss this witty and devastating portrait of the governing class, directed by Simon Godwin (NT Live: Antony & Cleopatra, Twelfth Night) and part of National Theatre Live's 10th birthday season. Doors 6.30pm, Runtime 1hr 40mins, no interval. Cert 12a. Your seat will be automatically allocated however if you have a particular requirement please call the box office direct 01297 625699 and discuss for your safety and comfort. Tea/Coffee, Delicious Cakes and Licensed Bar.  Please note we are a charitable organisation and we do NOT add any extra charges for online purchasing, so if you are a taxpayer you have the option to select giving a £1 donation on your ticket, every donation goes towards the maintenace and purchase of equipment for our much loved building, if purchasing more than one ticket you can select tickets without donation and one with. Thank you so much!