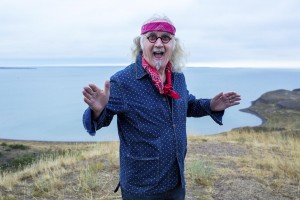 Hailed as the UKs most influential comedian of all time, Legendary Scot Billy Connolly was filmed during his brilliant final stand up tour and it is coming to The Gateway. Recorded in 2015 during the Australian leg, this whip smart routine is a riotous journey filled with outrageous tales and blistering observations of everyday absurdities. Screening as a special one-night only event, Connolly will also muse upon his career, life and legacy in a deeply personal interview filmed exclusively for cinema audiences.
Prior to retiring in 2016 following his diagnosis with Parkinson's Disease, Billy toured worldwide continuously for 50 years, performing to an audience of over 10 million.
The Sex Life of Bandages
is a big screen tribute to an iconic funny-man whose sharp wit and anarchic storytelling is still as hilarious as ever.
5 Stars
'Can he still hold an audience in his trall - warm us, cheer us, tickle us?.
ABSOLUTELY! - 
The Telegraph
5 Stars 'Beautifully Funny' - The Guardian
5 Stars 'Connolly has still got his funny bones' - The Evening Standard
Doors open 7pm, run time 2hrs 10min, Cert 18. Your seat will be automatically allocated however do call the box office direct 01297 625699 if you have any specific requirements to ensure your comfort and safety.
Please note we do NOT add any extra charges for online purchasing so if you are a taxpayer you have the option to select giving a £1 donation on your ticket, every donation goes towards the maintenace and purchase of equipment for our much loved building, if purchasing more than one ticket you can select tickets without donation and one with. Thank you so much!