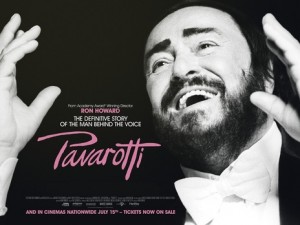 Ron Howard delivers a documentary celebrating the life of the beloved opera star Luciano Pavarotti, who sold over 100 million records in his lifetime.
The 1990 World Cup in Italy was the moment opera left the elite and hit the masses. Opera star Pavarotti joined fellow tenors Placido Domingo and Jose Carreras onstage in Rome watched by 1.4 billion worldwide. Their powerful rendition of Nessun Dorma lives on as one of the most popular and famous pieces of music the world has ever heard, and Pavarotti realised his long held dream of bringing opera into the mainstream.
Runtime 112 mins Cert 12A Doors 6.30pm for those wishing to bring their own food (no drinks please as there is a licensed bar) for those simply wishing to watch the film then show starts 7.30pm. Your seat will be automatically allocated but if you have a particular requirement then do call the box office direct 01297 625699 for your safety and comfort. 
Please note we do NOT add any extra charges for online purchasing so if you are a taxpayer you have the option to select giving a £1 donation on your ticket, every donation goes towards the maintenace and purchase of equipment for our much loved building, if purchasing more than one ticket you can select tickets without donation and one with. Thank you so much!