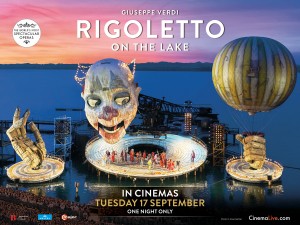 Giuseppe Verdi's masterpiece - compelling, blood-curdling and beautiful - is being performed for the first time on the unique, Bregenz lake stage.
Once of Verdi's most popular works, Rigoletto is an unforgettable tale of a sacrifice and revenge; of a father's rage and a daughter's shame. It features several of opera's best-known arias-including Rigoletto's passionate denouncement "Cortigiani, vil razza dannata," Gilda's dreamy "Caro nome" and the Duke's instantly recognisable "La donna è mobile."
Directed and designed by Philip Stölzl, this timeless tragedy will delight audiences with a powerhouse combination of entertainment and emotional intensity from the spectacular shore of Lake Constance.
Doors 6.30pm. Runtime 150mins Cert12A. Your seat will be automatically allocated however if you have a particular requirement please do call the Box Office direct 01297 625699 to discuss for your safety and comfort. Please note we do NOT add any extra charges for online purchasing so if you are a taxpayer you have the option to select giving a £1 donation on your ticket, every donation goes towards the maintenace and purchase of equipment for our much loved building, if purchasing more than one ticket you can select tickets without donation and one with. Thank you so much!