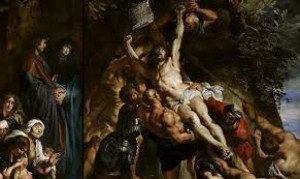 The story of Christ's death and resurrection has dominated western culture for the past 2000 years. It is perhaps the most significant historical event of all time, as recounted by the gospels but, equally, as depicted by the greatest artists in history.
From the triumphant to the savage, the ethereal to the tactile, some of western civilization's greatest artworks focus on this pivotal moment. This beautifully crafted film explores the Easter story as depicted in art, from the time of the early Christians to the present day.
Shot on location in Jerusalem, United States and throughout Europe, the film explores the different ways artists have depicted the Easter story through the ages and thus depicts the history of us all. Runtime 85mins
Fully Licensed Bar, Tea/Coffee and a selection of delicious cakes from our local baker Country Cakes.
For online purchase your table seat will be automatically allocated however if you have any special requirements do contact the venue direct 01297 625699 to discuss for your safety and comfort.
Please note we do NOT add any extra charges for online purchasing so if you are a taxpayer you have the option to select giving a £1 donation on your ticket, every donation goes towards the maintenance and purchase of equipment for our much loved building, if purchasing more than one ticket you can select tickets without donation and one with. Thank you so much!