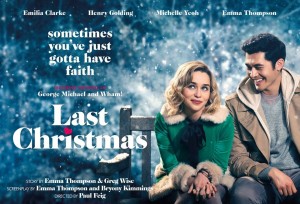 Last Christmas
 is a 2019 romantic comedy film directed by Paul Feig and written by Bryony Kimmings and Emma Thompson, who co-wrote the story with her husband, Greg Wise. Nothing seems to go right for young Kate, a frustrated Londoner who works as an elf in a year-round Christmas shop. But things soon take a turn for the better when she meets Tom -- a handsome charmer who seems too good to be true. As the city transforms into the most wonderful time of the year, Tom and Kate's growing attraction turns into the best gift of all -- a Yuletide romance. Runtime 1hr 43mins , Cert 12A . 
Doors open 6.30pm for those bringing food for anyone simply wishing to watch the film show starts at 7.30pm. Please note to select the correct ticket at purchase point, table or row seating. Your seat will be automatically allocated but if you have a special requirement then please do call the box office direct 01297 625699 to ensure your safety and comfort. 
 Please note we do NOT add any extra charges for online purchasing so if you are a taxpayer you have the option to select giving a £1 donation on your ticket, every donation goes towards the maintenace and purchase of equipment for our much loved building, if purchasing more than one ticket you can select tickets without donation and one with. Thank you so much!