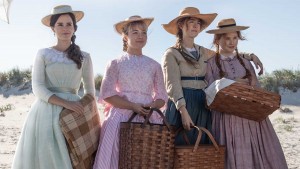 Following the lives of four sisters, Amy, Jo, Beth and Meg, as they come of age in America in the aftermath of the Civil War. Though all very different from each other, the March sisters stand by each other through difficult and changing times. Runtime 2hrs 15mins. PG Very Mild Threat. 
Doors open 6.30pm for those bringing food for anyone simply wishing to watch the film show starts at 7.30pm. Please note to select the correct ticket at purchase point, table or row seating. Your seat will be automatically allocated but if you have a special requirement then please do call the box office direct 01297 625699 to ensure your safety and comfort. 
 Please note we do NOT add any extra charges for online purchasing so if you are a taxpayer you have the option to select giving a £1 donation on your ticket, every donation goes towards the maintenance and purchase of equipment for our much loved building, if purchasing more than one ticket you can select tickets without donation and one with. Thank you so much!