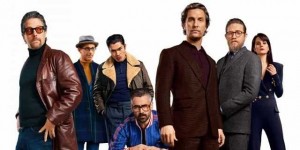 Directed by Guy Ritchie
Cast includes: Matthew McConaughey, Colin Farrell, Charlie Hunnam, Hugh Grant
Duration: 113 minutes Cert 18
Marijuana kingpin Mickey (Matthew McConaughey) has plans to retire, but that creates a power vacuum with Henry Golding (Crazy Rich Asians) as the young buck with designs on his empire. Throw onto this fire a gallon of petrol in the shape of competing factions (and starry names) Hugh Grant, Colin Farrell, Charlie Hunnam, Michelle Dockery and Succession's Jeremy Strong.
Ritchie's talent for very funny, very sweary, very slickly-directed carnage hasn't deserted him and this is a slug of scotch to kickstart the palate in the new year.
Doors open 6.30pm for those wishing to bring food (No drinks please as we have a licensed bar) for those simply wishing to watch the film then show starts at 7.30pm. When purchasing online take care to select the correct ticket, Film Picnic Night for table allocation and Film Only for row seating. Your table or seat will be automatically allocated but if you have any specific requirements please call the Box Office direct on 01297 625699.
Please note we do NOT add any extra charges for online purchasing so if you are a taxpayer you have the option to select giving a £1 donation on your ticket, every donation goes towards the maintenance and purchase of equipment for our much loved building.
If purchasing more than one ticket you can select tickets without donation and one with (the £1 donation fee will be added at the checkout).  Thank you so much!