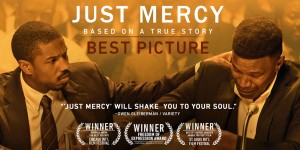 Director Destin Daniel Cretton
Starring Michael B. Jordan, Jamie Foxx and Brie Larson
Runtime 137mins Cert 12A
A powerful and thought-provoking true story, 'Just Mercy' follows young lawyer Bryan Stevenson (Jordan) and his history-making battle for justice. 
After graduating from Harvard, Bryan had his pick of lucrative jobs. Instead, he heads to Alabama to defend those wrongly condemned or who were not afforded proper representation, with the support of local advocate Eva Ansley (Larson). 
One of his first, and most incendiary, cases is that of Walter McMillian (Foxx), who, in 1987, was sentenced to die for the notorious murder of an 18-year-old girl, despite a preponderance of evidence proving his innocence and the fact that the only testimony against him came from a criminal with a motive to lie. 
In the years that follow, Bryan becomes embroiled in a labyrinth of legal and political maneuverings and overt and unabashed racism as he fights for Walter, and others like him, with the odds - and the system - stacked against them.
Doors open 6.30pm for those wishing to bring food (No drinks please as we have a licensed bar) for those simply wishing to watch the film then show starts at 7.30pm. When purchasing online take care to select the correct ticket, Film Picnic Night for table allocation and Film Only for row seating. Your table or seat will be automatically allocated but if you have any specific requirements please call the Box Office direct on 
01297 625699
.
Please note we do NOT add any extra charges for online purchasing so if you are a taxpayer you have the option to select giving a £1 donation on your ticket, every donation goes towards the maintenance and purchase of equipment for our much loved building.
If purchasing more than one ticket you can select tickets without donation and one with (the £1 donation fee will be added at the checkout).  Thank you so much!