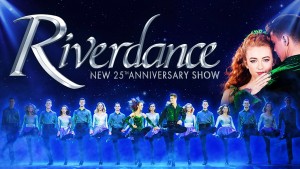 The new 25th Anniversary show catapultsRiverdanceinto the 21st century and will completelyimmerse you in the extraordinary and elemental power of its music and dance.25 years ago, 7minutes changed the face of Irish dancing forever. The Eurovision interval act performance gavemillions of people a new and exciting glimpse of the future of Irish dance.Now 25 years later,composer Bill Whelan has rerecorded his mesmerising soundtrack while producer Moya Doherty anddirector John McColgan have completelyreimagined the ground-breaking show with innovative andspectacular lighting, projection, stage and costume designs. This powerful and stirring reinvention ofthe beloved family favourite is celebrated the world over for its Grammy Award-winning music andthe thrilling energy of its Irish and international dance. Filmed live at the 3Arena Dublin, the exactspot where it all began, the 25thAnniversary Gala Performance will bringRiverdanceto the bigscreen for the very first time! Doors open at 7pm. Runtime 120mins, Cert TBA
Your seat will be automatically allocated however if you have a particular requirement please call the box office direct 01297 625699 and discuss for your safety and comfort. 
Please note we are a charitable organisation and we do NOT add any extra charges for online purchasing, so if you are a taxpayer you have the option to select giving a £1 donation on your ticket, every donation goes towards the maintenance and purchase of equipment for our much loved building, if purchasing more than one ticket you can select tickets without donation and one with. Thank you so much!