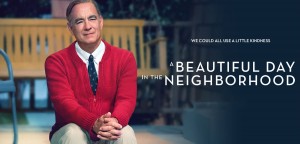 Director: Marielle Heller
Starring: Tom Hanks, Matthe Rhys and Susan Keletchi Watson
Runtime: 109mins Cert PG
One American national treasure portraying another, as Tom Hanks dons the red cardigan of children's TV presenter Fred Rogers. His earnest goodwill and emotional warmth in Mister Rogers' Neighborhood raised a generation, but when journalist Lloyd (Matthew Rhys) sets out to write a profile, he is keen to scratch beneath the persona.
Marielle Heller (Can You Ever Forgive Me?) pitches the film perfectly between cynicism and purity, as Lloyd explores his own reasons for wanting to unmask Rogers. Warm but unsentimental, this is one of Hanks best roles, a beautiful watch even if you didn't grow up in Mister Rogers' Neighborhood.
Doors open 6.30pm for those bringing food for anyone simply wishing to watch the film show starts at 7.30pm. Please note to select the correct ticket at purchase point, table or row seating. Your seat will be automatically allocated but if you have a special requirement then please do call the box office direct 01297 625699 to ensure your safety and comfort. 
 Please note we do NOT add any extra charges for online purchasing so if you are a taxpayer you have the option to select giving a £1 donation on your ticket, every donation goes towards the maintenance and purchase of equipment for our much loved building, if purchasing more than one ticket you can select tickets without donation and one with. Thank you so much!