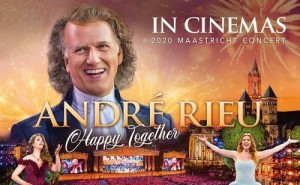 Music has the magical power to heal and to bring people together like no other art form. Following his very successful 70th birthday concert in cinemas, André Rieu invites you and your loved ones to a spectacular evening of music from his hometown Maastricht. Happy Together will be the feel-good music cinema event of the year!
You are never alone when you have André in your life. No-one who can pull at your heartstrings, move you to tears and make you laugh quite like the
King of Waltz! Revel in the enchanting sound of André Rieu's violin, alongwith his incomparable Johann Strauss Orchestra, world-class sopranos and the Platin Tenors.
Get ready for a magnificent open-air concert featuring popular classics, show-tunes and of course, waltzes that carry you away.This unique cinema experience also  brings you surprise special guests, backstage access and an exclusive interview with the maestro himself. So be our guest for this musical celebration making new friends in cinemas as you sing along, sway and waltz in the aisles...see you there! Runtime 180 mins 
Your table or seat will be automatically allocated but if you have any specific requirements please call the Box Office direct on 
01297 625699
.
Please note
 we do 
NOT
 add any extra charges for online purchasing so if you are a taxpayer you have the option to select giving a £1 donation on your ticket, every donation goes towards the maintenance and purchase of equipment for our much loved building.
If purchasing more than one ticket you can select tickets without donation and one with 
(the £1 donation fee will be added at the checkout)
. 
Thank you so much!